VILLA LUNA ROSSA villa gentilizia in vendita a Massa provincia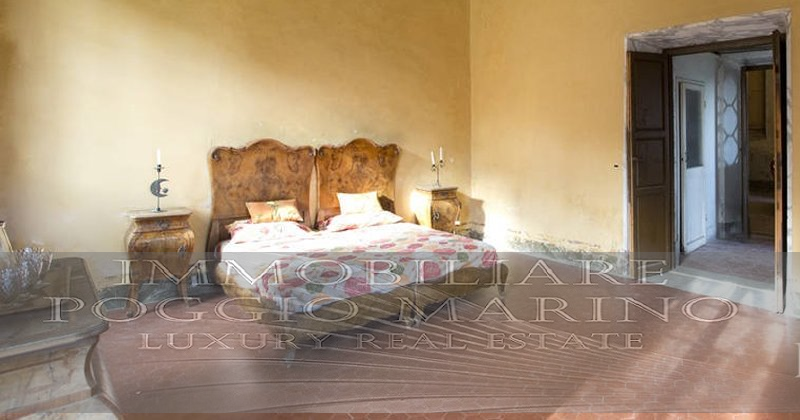 AULLA VILLA GENTILIZIA
Situata a 38 km dal mare ( raggiungibile in 35 minuti ) al confine tra le province di Lucca e Massa, in questo luogo ricco di storia immersa nei boschi in posizione completamente pianeggiante ma strategica e panoramica a 420 metri di altitudine, sorge questa meravigliosa villa liberty, proprietà risalente al 1.700. Dunque con la sua posizione pianeggiante, l'immobile gode della splendida vista delle colline circostanti e le Apuane ed è circondata da 4 ettari di terreno, composto dal giardino abbellito da alberi ad alto fusto e palme, e una parte di bosco. Il terreno degrada e confina con un caratteristico piccolo torrente, che attualmente i proprietari attraversano a cavallo seguendo itinerari equestri, facendo trekking e tour sulle dolci colline circostanti. Il parco si presta anche per la realizzazione di campi da tennis, campo da golf, piscina. Una residenza di pregio ideale per agriturismo o per chi ama rifugiarsi in un luogo unico ove rilassarsi, i profumi dei fiori, delle piante e i colori della natura ci proiettano in un'altra dimensione. Lo stato manutentivo è ottimo, la sapiente ristrutturazione conservativa, nel corso degli anni, ha consentito che molti elementi risalenti all'epoca siano ancora presenti e ben conservati. Gli ambienti della villa godono tutt'oggi del prestigio originale dei materiali e finiture impiegate, come gli affreschi sui soffitti e sulle pareti, i pavimenti in marmo e l'originale graniglia siciliana e parquet, i camini in marmo e legno lavorato. Complessivamente, la struttura ospita sei camere da letto matrimoniali e cinque bagni. Si tratta di una vera e propria villa da sogno, inserita in un contesto unico ed esclusivo, un'oasi di relax fra le dolci colline strette fra le maestose vette delle Alpi Apuane e le rilassanti spiagge del Lido della Versilia. Tipologia: Immobili di prestigioCircondata da 37.000 mq. di terreno confinante, la villa Liberty del XIX secolo ben ristrutturata, disposta su tre livelli con una bella vista panoramica e un parco circostante ben tenuto. Il piano nobile è caratterizzato da un ampio salone, un caminetto, pavimenti a mosaici e da alcuni soffitti affrescati d'epoca, mentre il Piano Terra è valorizzato oltre che da locali a volta anche da una enoteca. La zona notte al Piano Secondo comprende quattro camere, due bagni, un salotto e una cucina d'epoca con caratteristico caminetto. Riscaldamento autonomo a gas naturale.
AULLA VILLA GENTILIZIA Located 38 km from the sea (reachable in 35 minutes) on the border between the provinces of Lucca and Massa, in this place rich in history immersed in the woods in a completely flat but strategic and panoramic position at 420 meters above sea level, stands this wonderful Art Nouveau villa , property dating back to 1700. Therefore, with its flat position, the property enjoys a splendid view of the surrounding hills and the Apuan mountains and is surrounded by 4 hectares of land, consisting of a garden embellished with tall trees and palms, and a part of the woods. The land slopes down and borders a characteristic small stream, which the owners currently cross on horseback following equestrian itineraries, trekking and taking tours of the surrounding rolling hills. The park is also suitable for the construction of tennis courts, golf courses and swimming pools. A prestigious residence ideal for agritourism or for those who love to take refuge in a unique place to relax, the scents of flowers, plants and the colors of nature project us into another dimension. The state of repair is excellent, the skilful conservative renovation, over the years, has allowed many elements dating back to the time to still be present and well preserved. The rooms of the villa still enjoy the original prestige of the materials and finishes used, such as the frescoes on the ceilings and walls, the marble floors and the original Sicilian grit and parquet, the fireplaces in marble and worked wood. Overall, the structure houses six double bedrooms and five bathrooms. It is a real dream villa, set in a unique and exclusive context, an oasis of relaxation among the rolling hills squeezed between the majestic peaks of the Apuan Alps and the relaxing beaches of the Lido della Versilia. Type: Prestigious properties Surrounded by 37,000 m2. of neighboring land, the well-renovated 19th century Liberty villa, arranged on three levels with a beautiful panoramic view and a well-kept surrounding park. The main floor is characterized by a large living room, a fireplace, mosaic floors and some period frescoed ceilings, while the ground floor is enhanced not only by vaulted rooms but also by a wine shop. The sleeping area on the Second Floor includes four bedrooms, two bathrooms, a living room and a period kitchen with a characteristic fireplace. Independent natural gas heating.


DATI ANNUNCIO

| | |
| --- | --- |
| Pubblicato il | 26-10-2023 |
| Riferimento | V129 |
| Tipologia | VILLA |
| Stato immobile | buone condizioni |
OFFERTA COMMERCIALE

| | |
| --- | --- |
| Tipo di contratto | vendita |
| Prezzo | € 500.000,00 |
DATI GEOGRAFICI

| | |
| --- | --- |
| Stato | Italy |
| Zona | AULLA |
CARATTERISTICHE IMMOBILE

| | |
| --- | --- |
| Classe energetica | G |
| m² | 570 |
| Vani | N. 18 |
| Camere | N. 5 |
| Servizi | N. 4 |
PIANI / ACCESSI

| | |
| --- | --- |
| N. Piani | 3 |
GIARDINI E TERRENI

| | |
| --- | --- |
| Giardini | m² 45000 |
form di richiesta informazioni
Per avere ulteriori informazioni su questo annuncio è sufficiente inserire i dati richiesti nel form sottostante e premere "Invia Richiesta"
I campi in grassetto sono obbligatori.